I'd always wanted to join races like '
The Amazing Race
' as I found it very challenging.. but I don't have a chance (~.~)...
However, the day has come~
9 Jan 2010
-
DiGi Internet Pimp My Day
~ The day that I'd finally feel the experience of '
Amazing Race
'!
I was booked 1 week earlier by my
AWESOME
teammate - Nicole, TianChad and Ange as the '
treasure hunting
' is specially for
Nuff
nangers, and it takes place in 1 Utama!
Wonderful teammates with wonderful challenges! No regrets!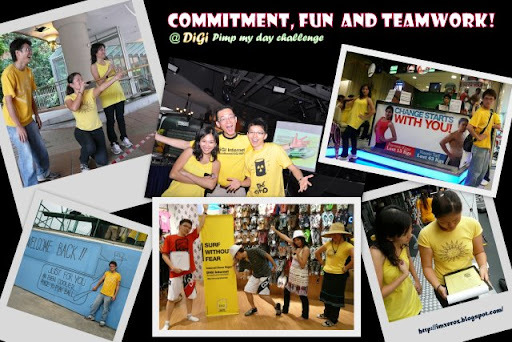 BIG
BIG
THANK YOU to
DiGi
,
S
w
a
t
c
h
,
Quicksilver
,
Celebrity
Fitness
, M
ardi
G
ras
, 1Utama
rainforest
and
It's a Hit! Batting Cages
! not to forget
Nuff
nang
too,
for making the event so
HAPPENING
!!
We're so excited that we don't even realised we reached the final challenge!
Although we did not win any prizes, we're very very much satisfy with our teamwork and funs! Big hugs to my teammates!
For those who're reading~ You won't be able to experience the fun and joy until you're participating! And of course, these wonderful and challenging experiences can't be bought! It's more satisfying than winning prizes!
Thanks

DiGi

and

Nuff

nang once again for the great event! I better hurry up and post up this post so that I might win something for individual blog entry of the event!
signed off praying hardly at 11:33 p.m.